We're pleased to be working with Boxer Property. Boxer is a forward thinking commercial real estate property owner that offers office space solutions for all sizes of companies. They were early to recognize the role the web would play in commercial real estate and have built some impressive systems to support it. Welcome to Boxer and their 1800+ property listings.

Today we added a new feature on Rofo that helps you keep your listings at the top of search results and maximize exposure. All with the simple click of a button.
Rofo search results are organized by the date the listings were added or updated. The freshest listing content always appears first.
With the addition of the "renew" button (highlighted below) you can now click and have your listings appear on top. This occur at the building level so that all of your suites available in that building will be renewed.
There are no limits on how often you can renew. So come back often and keep your listings on top.

We're highlighting this company because they're innovative and responding to a need in the commercial real estate market.
Work Space Fremont is a commercial landlord in Fremont. What makes them innovative is their approach toward short term (monthly) leases and delivering an office space and warehouse solution that is needed in the market.
In the past we've discussed the idea of buildings with monthly leases that result in long term and long lasting tenant relationships.
Workspace Fremont is a great example of how it can work.
Okay, maybe a slight exaggeration. You won't end up with any real physical ailments except a headache.
A friend of mine who runs an ad agency in San Francisco called me the other day and said he has a lease that needs renewing in 10 months. He leases 8,000 square feet in a nice neighborhood. His landlord wants to negotiate directly with him. "Let's work this out and don't insert a broker in this deal. It will just end up costing you more", the landlord said.
So my friend asks why he can't just look at commercial real estate listings online and compare asking rates? And why are so many listings priced as "negotiable"? What is everyone trying to hide?
The simple answer: nothing.
The rate depends on your credit, the length of the lease, the size of the deal, the popularity of the building, the lease that is getting negotiated in another suite, leasing commissions, improvements that you need. And the financial situation of the building/landlord. Let me elaborate on each.
Financial Credit – if you have good credit the landlord assumes less risk and is will to make some concessions. Less than good credit means you're riskier and the landlord will feel less aggressive to reach for your tenancy.
Length of Lease – as a tenant, if you're looking to make a long term commitment (defined as more than 3 years) you're more attractive to landlords. It means less turnover for them and less vacancy. And that's worth a discount in rate.
Deal Size – small tenants get less attention and perks. Everyone defines small differently. But for the sake of this post let's define small as under 5,000 square feet.
Building Popularity – there are many things that make a building popular. Most often its the location, condition, and reputation of the landlord/manager. If you occupy a building that has little vacancy and the market is strong, your landlord is not losing sleep over your lease renewal. Sure a renewal is less expensive and easier than landing a new deal. But finding a new tenant is not the end of the world.
Lease Comps – asking rates are not lease comps. Leases that are getting negotiated right now are comps (not the comps from 6 months ago either). But you don't have access to this info. The landlord probably does. The landlord knows his comps and there's a good chance he knows of others. As leases are signed the rates change. Because most landlords will change pricing as other leases are completed.
Commissions/Improvements – these costs impact the rental rate. Pure and simple. This is why rates aren't always published. Think of it like buying homeowners insurance. The price depends on several factors.
Financial situation of the building/landlord – The landlord who is desperate for a deal is not going to broadcast it. It's better to show a negotiable rate than a discounted rate. And the landlord who's not desperate for a deal doesn't have much incentive to quote a rate. They want to evaluate the tenants in the market and hold out for the best. "Call us and we'll let you know."
So what should my friend do? Hire a broker. Spend the time finding the right one. There's a good chance your landlord won't pay your broker on a lease renewal. Especially if the landlord feels like you're not going to move. And also if the broker wasn't part of the first renewal conversation. So you may have to pay the broker yourself. But if it means cheaper rent over the course of a few years, it's money well spent.
We want to buy songs not albums. Salesforce not software. Perpetual 1099 consultants over employees. Long term liquid investments.
We like the sound of flexibility because the world is unpredictable. But we're also creatures of habit that like to minimize disruption and change.
Regus has been on to this for years. Office space without a long term lease commitment. It works. Because it's the world we live in.
Sure, Regus caters to smaller space needs. The majority of their office suites are occupied by companies with 10 people or fewer in one location.
But guess what? Bigger users/companies want flexibility as well. And the landlord who dares to offer it is going to win. Here's the reason why:
Large companies, even more so than small companies, do not want to move.
Offer a short term lease with renewal options and your building will always be filled with long term tenants.
$.34 per square foot. How the money is spent is very interesting and revealing.
We conducted a survey of commercial landlords with class A property and it was very interesting to see not only how much money was being spent annually but where it was being spent. This chart excludes brokerage commissions and tenant improvements which were tracked separately as transaction costs.
Even excluding commissions "Broker Marketing" is still where the majority of spending occurs. Examples include events like open houses, lunches, sporting events, and deal closing events.
The second largest category is "exposure/advertising". This includes magazine advertising and sponsored business events.
"Other marketing" includes marketing and events for existing tenants.
"Promotional material" includes flyers, floor plans, and space plans.
Remember, this excludes commissions. Brokerage commissions is 2x the entire chart. And tenant improvements and build out is 16x.
Online listings marketing, CRE databases, and research was included in "Subscriptions & Associations".
This market perspective was contributed by Michael Mazzotta.
I'm a commercial real estate broker and represent tenants in the San Diego Commercial Real Estate Market including Carlsbad, Chula Vista, College Area, Coronado, Del Mar Hts/Carmel Valley, Downtown, East County, Escondido, Governor Park, Kearny Mesa, La Jolla, MCAS Miramar, Mira Mesa/Miramar, Mission Gorge, Mission Valley, National City, North Beach Cities, North Central County, Oceanside, Old Town/S Arena/Pt Loma, Otay Mesa, Outlying SD County N, Outlying SD County S, Park East, PB/Rose Canyon/Morena, Poway, Rancho Bernardo, San Marcos, San Ysidro/Imperial Beach, Scripps Ranch, Sorrento Mesa, Sorrento Valley, Southeast San Diego, Torrey Pines, Uptown East, Uptown West/Park West, UTC, Vista submarkets.
Recent Leasing Trends
The San Diego market has been a very dynamic tenant and landlord market as of late. Rental rates have climbed back to where they were pre-recession inn 2006, 2007, 2008. Office markets such as La Jolla UTC, Sorrento Mesa, Sorrento Valley, and Rancho Bernardo have stabilized the most and are now fairly balanced markets putting landlords and tenants on equal footing.
What's driving the market?
The leasing market in San Diego has improved greatly in the past 18 months. We are seeing more and more companies expanding their offices, and we have seen a great number of companies leasing multiple locations.
Two big things are driving growth: First is the general rebound of the overall local economy. Companies are beginning to invest again and grow headcount. We are seeing many more expansions and less "blend and extend" type deals. This is especially true in the technology sector. Technology start-ups have always fueled the excitement and demand of the San Diego markets and we will continue to see this trend continue. More and more start ups are attracted to San Diego due to it's abundance of work/live environments throughout all of the submarkets.
Tenant advice and strategies
For San Diego County tenants that are looking to find space, I would suggest narrowing your search to buildings with 10,000 square feet or more. I would also focus on buildings that have historical vacancy to capture the best deal. These buildings also provide the ability to expand quickly without having to break a lease and relocate. Never forget to include in your lease a first right of refusal. And always put early occupancy and free rent inside the lease with landlords that want to see a higher contract rent. Securing the right lease and space goes far beyond just getting the lowest starting rent.
This market perspective was contributed by Michael Tucker of Scotland Wright Associates.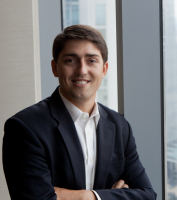 I'm a commercial real estate broker and represent tenants in the Greater Atlanta commercial real estate market – including – Buckhead, Midtown, Downtown, Central Perimeter, Alpharetta, N. Fulton, Gwinnett, Sugarloaf, Johns Creek, Decatur, Cumberland Galleria, Northside Dr./GA Tech, Chamblee, Kennesaw/Chastain Road, and Peachtree Corners.
State of the leasing market
The market is becoming more and more balanced, shifting from a pure tenant market to one that is equal for tenants and landlords; although we would still call it a tenant's market. The landlords are starting to push rental rates in stable buildings and pull back on their concessions – especially the free rent and tenant improvements.
Marker drivers
The leasing market in Atlanta has improved greatly in the past 18 months. We are seeing more and more companies expanding their offices, and we have seen a great number of companies relocate to the Atlanta area. Two big things are driving the growth. First is the general rebound of the market and stable companies beginning to invest again and chose to grow their companies. We are seeing much more expansions and much less blend and extend type deals. Especially in the technology sector that is growing tremendously in Atlanta. The second is the State Farm effect. State Farm has leased over 1 million sf of office space in Atlanta in the past 12 months, causing many of the large blocks of space in the Central Perimeter to be leased up all at once.
Tenant advice and strategies
I would tell a tenant looking for a new location to focus on the fundamentals driving their decision and not to let the "tail wag the dog". They need to determine what are the two or three things that are going to be the most important, and then avoid considering buildings that won't be a good fit. For example, if a short lease term is the most important thing, then don't look at spaces that need a ton of build out and be willing to be flexible on the sub-market they are considering. Another example would be if recruiting is a major initiative, then don't stress over $0.50 per sf on rental rate, but instead focus on the building/landlord that can build and design the space you want to attract the type of employees you need to hire. When companies know what they want and how office space impacts their business, then they make far quicker and better long term decisions.
We're excited to unveil a new (and easier way) for commercial real estate brokers, agents, property managers and landlords to present available listings on their own website.
The Rofo listings widget (please help us come up with a better name) is:
FREE
SCALABLE
FLEXIBLE
CUSTOMIZABLE
And it's easy to use. It's packed with functionality, easy on the eyes, simplifies data management, keeps you in control of your listings data, and leverages Rofo's tools for lead capture and routing on any device!
The Google map is interactive, Yelp amenities (like parking and coffee shops) are integrated, and your website visitors never leave your site! Your listings and your traffic. If you have videos of your properties on Youtube they will be displayed. If you have attachments like floor plans, they will also be displayed.
Best of all, it's one single line of software code. Your web developer will enjoy this. And you can place it on as many sites as you like.
Need to mention again that it's free. Oh, and if you want/need to update other listings sites and brokers in your market, they can subscribe to your RSS or you can export to Excel and email the file.
Here's a live widget to get a better sense of the experience:
1) Go to www.rofo.com and sign in.
2) Click on Profile Settings.
3) Once you've added your photo and description click Save Changes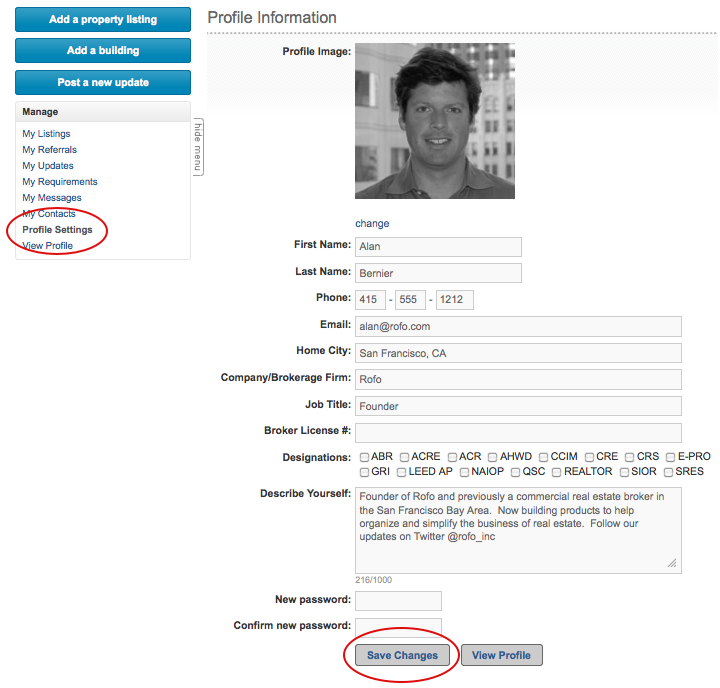 Best practices:
Complete all fields and provide a brief description of your role/expertise. Be sure to include a profile photo. Your profile gets attached to your listings, activity, and all Rofo introductions. It personalizes the experience and creates more meaningful real estate connections.