This market perspective was contributed by Michael Tucker of Scotland Wright Associates.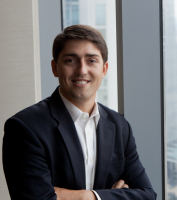 I'm a commercial real estate broker and represent tenants in the Greater Atlanta commercial real estate market – including – Buckhead, Midtown, Downtown, Central Perimeter, Alpharetta, N. Fulton, Gwinnett, Sugarloaf, Johns Creek, Decatur, Cumberland Galleria, Northside Dr./GA Tech, Chamblee, Kennesaw/Chastain Road, and Peachtree Corners.
State of the leasing market
The market is becoming more and more balanced, shifting from a pure tenant market to one that is equal for tenants and landlords; although we would still call it a tenant's market. The landlords are starting to push rental rates in stable buildings and pull back on their concessions – especially the free rent and tenant improvements.
Marker drivers
The leasing market in Atlanta has improved greatly in the past 18 months. We are seeing more and more companies expanding their offices, and we have seen a great number of companies relocate to the Atlanta area. Two big things are driving the growth. First is the general rebound of the market and stable companies beginning to invest again and chose to grow their companies. We are seeing much more expansions and much less blend and extend type deals. Especially in the technology sector that is growing tremendously in Atlanta. The second is the State Farm effect. State Farm has leased over 1 million sf of office space in Atlanta in the past 12 months, causing many of the large blocks of space in the Central Perimeter to be leased up all at once.
Tenant advice and strategies
I would tell a tenant looking for a new location to focus on the fundamentals driving their decision and not to let the "tail wag the dog". They need to determine what are the two or three things that are going to be the most important, and then avoid considering buildings that won't be a good fit. For example, if a short lease term is the most important thing, then don't look at spaces that need a ton of build out and be willing to be flexible on the sub-market they are considering. Another example would be if recruiting is a major initiative, then don't stress over $0.50 per sf on rental rate, but instead focus on the building/landlord that can build and design the space you want to attract the type of employees you need to hire. When companies know what they want and how office space impacts their business, then they make far quicker and better long term decisions.
We're excited to unveil a new (and easier way) for commercial real estate brokers, agents, property managers and landlords to present available listings on their own website.
The Rofo listings widget (please help us come up with a better name) is:
FREE
SCALABLE
FLEXIBLE
CUSTOMIZABLE
And it's easy to use. It's packed with functionality, easy on the eyes, simplifies data management, keeps you in control of your listings data, and leverages Rofo's tools for lead capture and routing on any device!
The Google map is interactive, Yelp amenities (like parking and coffee shops) are integrated, and your website visitors never leave your site! Your listings and your traffic. If you have videos of your properties on Youtube they will be displayed. If you have attachments like floor plans, they will also be displayed.
Best of all, it's one single line of software code. Your web developer will enjoy this. And you can place it on as many sites as you like.
Need to mention again that it's free. Oh, and if you want/need to update other listings sites and brokers in your market, they can subscribe to your RSS or you can export to Excel and email the file.
Here's a live widget to get a better sense of the experience:
1) Go to www.rofo.com and sign in.
2) Click on Profile Settings.
3) Once you've added your photo and description click Save Changes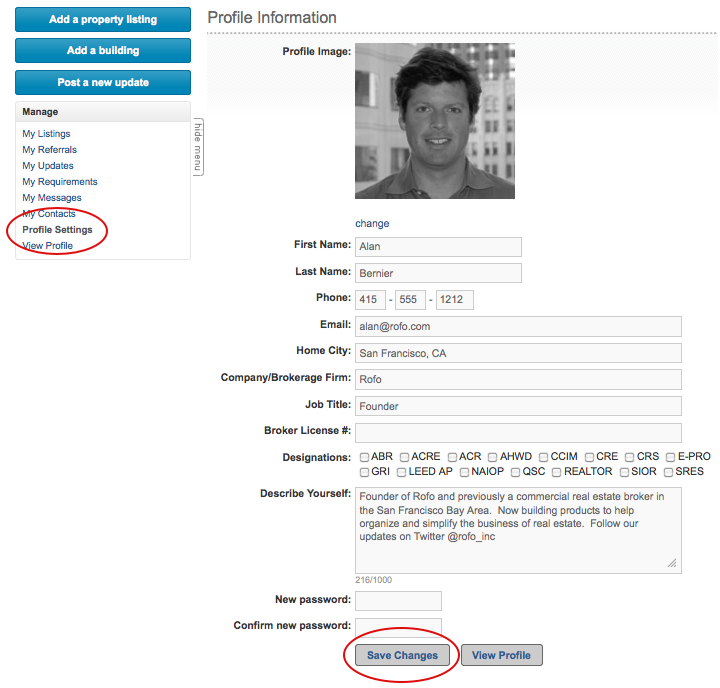 Best practices:
Complete all fields and provide a brief description of your role/expertise. Be sure to include a profile photo. Your profile gets attached to your listings, activity, and all Rofo introductions. It personalizes the experience and creates more meaningful real estate connections.
I run a website that lists office space. So I end up seeing a lot of office space. One thing I know about San Francisco is that finding quality space in an amazing location that is move-in ready and at discount to market rents is very hard to come by.
I came across this space today (actually it came to my inbox). If we didn't have our own nice below market space I'd be hopping on this one.
Here's the description I received:
We are marketing that 4,052 square foot space for sublease. This is a great space with north-facing views. Furniture can be included. Current layout is 18 low-height work stations, 5 private offices and a kitchen/break room. This is a stand-alone, non-shared space; our client's other space is on separate floors.
The remaining lease term is through May 2014. The asking rent is $39 per square foot per year, fully serviced, or about $13,000 per month – well below the landlord's $50+ asking rent.
Floor plan and pics:
Small Industrial Space on Batavia
1010 N. Batavia, Orange, CA 92867
1,780 sqft | $1,406 NNN

Listing ID: 97922
Space Type: Industrial
---
Property Highlights
3 offices, rr, OH Frontage, Mezzanine
Sprinklers: No
Loading Zone:
• Rail Access: No
---
Powered by Rofo
Team Spaces at 590 Madison – Midtown Area
590 Madison Avenue, New York, NY 10022
750 sqft | Per Person Pricing

Listing ID: 265016
Space Type: Office
---
Property Highlights
Great for businesses seeking plug and play office space to occupy quickly. Flexible leasing terms available.
-AV equipment, high-speed internet access, photocopiers and printers.
-All reception and admin services.
-Customized signage and internal office branding.
-Meeting rooms, breakout areas, lounges, cafes and kitchens.
-Grade A working environment.
---
Powered by Rofo
A very common question with a simple answer: between $500 and $1000 per person.
I know it doesn't sound very scientific but this is based on renting spaces for Rofo for the last 5 years, 5 years as an office leasing broker, and reviewing thousands of lease comps over the years. I know too much about office space rents.
As with any expense in life, some will pay a little more and some will pay a little less. Some rents will include everything and some rents won't include a thing besides the space.
And I realize office rents in New York City are not the same as Pittsburgh. That said, all markets offer a choice to tenants in terms of quality and price.
The more important question to ask is what you do in your space? We're all doing some kind of work. The type of work will influence your choices and rent.
Here are some basic questions to ask (you and your colleagues):
Do you meet with customers?
If yes, then you want to be in a presentable space with easy access.
Do you drive to work or take public transit? Or both?
Typically, spaces near public transit mean higher parking costs.
Do you work normal business hours or round the clock?
If you're a night owl you may want to consider a more secure space. That often means building security which means a fully serviced building with slightly higher rents.
Are you a sales team or are you an engineering team? Or both?
This dictates whether you need your own space, if you can share space, and whether or not you can get along in a open space or need private offices. The more a space is built out the more the rent (usually).
Does your business have a history?
If you've leased space before there's a good chance this means you have some future visibility. It also means you have a little financial credit. Credit will influence the kind of deal you can negotiate and how much money you must sink into a deposit. The deposit is also a function of how much, if any, a landlord has to spend to get you into a space. The more it costs the higher the deposit. One month of rent or less is great. Anyone who asks for 3 or more months is being unreasonable (unless they are spending a bunch on improvements and commissions to get you in).
How do you know what is right for you and your business?
At the end of the day, your rent shouldn't exceed 10% of your overall business expenses (that includes payroll). If it does, you may want to think about finding cheaper space.
Share your thoughts with us.
Furnished Newport Beach Office Suite
5000 Birch Street, Newport Beach, CA 92660
250 sqft | Per Person Pricing

Listing ID: 194807
Space Type: Office
---
Property Highlights
Great for individuals and small temas seeking plug and play office space to occupy quickly.
-high-speed internet access, photocopiers and printers.
-All reception and admin services.
-Customized signage and internal office branding.
-Meeting rooms, breakout areas, lounges, cafes and kitchens.
-Grade A working environment.
---
Powered by Rofo


Recently we've been getting a lot of questions related to integrating property listings on a corporate website. Rofo offers many built-in tools to help our customers publish their commercial real estate listings wherever and whenever you'd like. And a flexible, light weight, listings widget is one of those tools. Our widget offers a clean, simple design that integrates well with any site and, more importantly, it keeps your website visitors on your website.
Here's a sample widget from a commercial property owner in San Francisco:
The size of the widget is easily customized and we offer a few versions depending on how you want to filter and display the data.
We can also provide you with the raw data if you're interested in creating your own app. Our friends at World Business Chicago are doing some really innovative things with commercial property data, enterprise zone data, and other tax credit data.
Over the last couple of weeks, we've been rolling out an entirely new way for commercial real estate companies (and teams) to control their data, market themselves, their listings, and their real estate activity.
Company pages:
Companies (brokerage firms, property managers, commercial landlords, developers) can now create a home on Rofo that promotes their portfolio of buildings, their latest news and activity, and their team.
Company pages also serve as a listings management platform. Once a portfolio of listings has been added you're able to easily manage and share both online and offline. Quickly print a professionally designed flyer for a tour handout. Power your own website with a listings widget. Export your listings in multiple formats to easily share with partners, executives, and other systems and websites that require listing data. Take full control of 'building pages' on Rofo with photos, video, amenity info, tenants, and descriptions.
With company pages you can easily manage your listing updates, add/remove/reassign team members to properties/listings, and invite other team members to join.
Team Pages
Team pages work the same as company pages. Most commercial real estate brokers work in teams and now Rofo provides a flexible platform to market your team's expertise, activity, and latest news. Your network can keep up with your team's updates by following your page (and eliminating the need to email blast your contacts with attachments).
And with team and company pages you can share listings and updates with anyone (they do not need to be subscribers to Rofo).
Please contact us anytime to learn more about promoting your company or team and taking control of your real estate.