This market perspective was contributed by Michael Tucker of Scotland Wright Associates.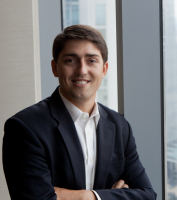 I'm a commercial real estate broker and represent tenants in the Greater Atlanta commercial real estate market – including – Buckhead, Midtown, Downtown, Central Perimeter, Alpharetta, N. Fulton, Gwinnett, Sugarloaf, Johns Creek, Decatur, Cumberland Galleria, Northside Dr./GA Tech, Chamblee, Kennesaw/Chastain Road, and Peachtree Corners.
State of the leasing market
The market is becoming more and more balanced, shifting from a pure tenant market to one that is equal for tenants and landlords; although we would still call it a tenant's market. The landlords are starting to push rental rates in stable buildings and pull back on their concessions – especially the free rent and tenant improvements.
Marker drivers
The leasing market in Atlanta has improved greatly in the past 18 months. We are seeing more and more companies expanding their offices, and we have seen a great number of companies relocate to the Atlanta area. Two big things are driving the growth. First is the general rebound of the market and stable companies beginning to invest again and chose to grow their companies. We are seeing much more expansions and much less blend and extend type deals. Especially in the technology sector that is growing tremendously in Atlanta. The second is the State Farm effect. State Farm has leased over 1 million sf of office space in Atlanta in the past 12 months, causing many of the large blocks of space in the Central Perimeter to be leased up all at once.
Tenant advice and strategies
I would tell a tenant looking for a new location to focus on the fundamentals driving their decision and not to let the "tail wag the dog". They need to determine what are the two or three things that are going to be the most important, and then avoid considering buildings that won't be a good fit. For example, if a short lease term is the most important thing, then don't look at spaces that need a ton of build out and be willing to be flexible on the sub-market they are considering. Another example would be if recruiting is a major initiative, then don't stress over $0.50 per sf on rental rate, but instead focus on the building/landlord that can build and design the space you want to attract the type of employees you need to hire. When companies know what they want and how office space impacts their business, then they make far quicker and better long term decisions.