Dan Leuschen, Senior Advisor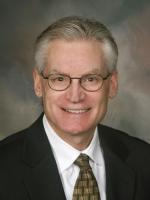 My Stats:
Active Listings: 8
About me: Success in industrial real estate requires a team with complementary talents. In recent years, Dan has partnered with colleague Steve Kawulok forming the largest industrial commercial real estate focus in Northern Colorado.

One of the initial factors to successful commercial transactions is a complete property and market analysis provided to clients. With accurate information, the client becomes a third partner in the decision-making process, thereby assuring goals are achieved. Our clients expect us to know the market and what is currently happening within it.

In selling or leasing industrial property, a comprehensive marketing plan is approved by the client, setting expectations. Status reports are tailored to each client's needs and preferences.

We fully understand that today's client expects fast action. So, when our client assigns us a responsibility, we have the tools and technology to "activate" immediately.
Home City: Fort Collins, CO
Company Profile: https://www.rofo.com/company/Sperry-Van-Ness-Commercial-Real-Estate-Advisors/92