Besides the massive amounts of rent and commissions generated by these social media giants for a few brokers and landlords, how else is the CRE industry benefiting?
I was asked this question by an institutional landlord yesterday who is no stranger to signing really big tech deals (Dropbox was one of their recent deals which started at 40,000 sqft during the first tour and ended up being 85,000 sqft – that is rapid growth).
But as we dove into this topic the question was less about why should they participate and more about defining a strategy to be active participants. How do you make it consistent, local and relevant? I'm pretty neutral on the whole social media ROI debate. Like anything in life, the returns are usually good when you commit and not do it half-assed. And, up front, you need to define the expected return and goal.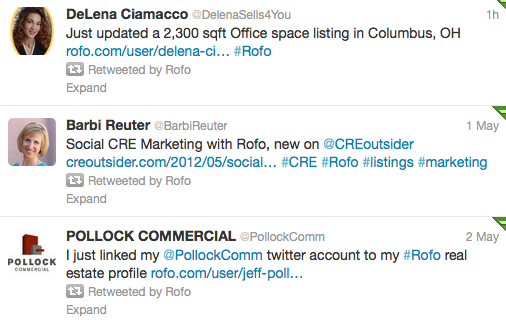 The role of Rofo, as I told him, is to help make it just a little more efficient. And provide a platform that enables professionals to organize and promote what they do. We link accounts so when you add an update on Rofo it also appears on Twitter, Linkedin, and wherever else those accounts are connected (usually Facebook). So for this landlord I asked what they do a lot of on a week to week to basis. The answer, of course, was update listings, tour brokers and tenants, and sign leases. All of those activities are marketable events on Rofo and really good Tweets. It's similar to how the local restaurant utilizes their changing menu to add followers.
To the extent you can leverage your professional real estate activity as a reliable source of Tweets and updates you not only save a bit of time but hopefully answer the question "What the hell am I supposed to Twee?"